PRINTS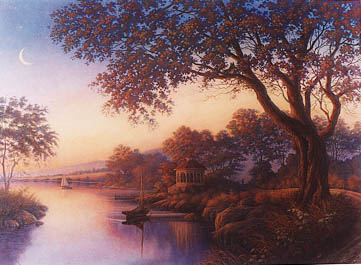 ENCHANTED EVENING
22" x 28"
$495.00


"Enchanted Evening" is Kathleen Cantin's first 25 color continuous tone lithograph, recreated from her original painting and printed by Black Box Collotype of Chicago, Ill.

The continuous tone printing process is considered by many to be an art form in itself, unrivaled by any current lithographic printing methods. Unlike half-tone plates that have a regular dot structure, continuous tone plates have a random grain structure which is very fine and irregular. This allows unlimited plates and colors to be overlapped, creating a much greater tonal range, richness of color, and fidelity in the artwork.

All the colors are printed one plate at a time through the press, with only two colors printed in one day. The process is slow and labor intensive, much the same as the old stone lithography process was years ago. It is so unique and complex that some of the most talented printers in the field will not attempt it.

An archival permanence in the prints results from the use of costly permanent inks, some of which were developed by Black Box Collotype. These inks will last for a year in direct sunlight, as compared to three weeks for fugitive half-tone inks. The paper is 100% rag. Several museums have reproduced master works of art in continuous tone due to the high quality archival standards.

We are committed to offering our clientele the finest quality product we can achieve, not only in the artwork but also in the printing, and we are proud to present "Enchanted Evening."
---
© All images and text are protected under U.S. and International Copyright Laws
Unauthorized reproduction or use is strictly prohibited.