ON DISPLAY
For Katleen Cantin, making art means taking pains, but in the end it is all worth the effort. As a fine art etcher, she has turned out some unique and beautiful works. To create them she has had to follow an exacting, laborious process - one that was pioneered in the 15th century and later was refined by such masters as Rembrandt and Picasso.

While in her sophmore year at the University of New Hampshire, Kathleen became interested in the print making medium known as etching because etching had similarities to freehand drawing, and she had always loved drawing. She enrolled in an etching class. As the soft-spoken New Englander says, "Then, I was hooked."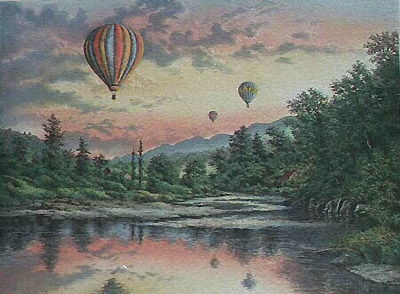 Kathleen's Sailing Home demonstrates her fine control of color and line in a demanding medium.

Kathleen maintains that she is so attracted to the freehand drawing aspect of etching because it is representative of fine art, as opposed to commercial art. A commercial artist could, for instance, trace a projected image of a photograph, whereas in Kathleen's art she must rely on her own skills of draftmanship. Her pursuit of originality has kept her on a successful track for more than 20 years. Kathleen's etchings are included in the collections of numerous galleries and even museums, including the Smithsonian Institution.

She shares credit for her success with her printer who provides invaluable assistance through his skills at ink-mixing and the printing process. With his help, she is able to produce her etching editions in her private studio.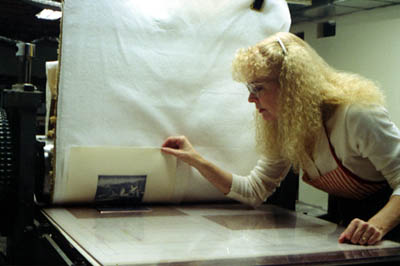 Editions of Katleen's etchings are naturally small because of the number of hours it takes to complete one piece. Because an etching is an intaglio print, the artist must draw directly on a metal plate. Kathleen uses a diamond point to draw through an acid-resistant covering. Once she is satified with her drawing, she immerses the plate into a dilute acid solution. The acid defines the lines drawn by Kathleen in a process called "biting". The finished product is called the masterplate.

In this first of many steps in the etching process, Katleen admits there is a lot of starting over and scrapping of unsatifactory work. In her etching entitled "Blow Ye Winds" she wasn't satified with her first masterplate and completely sanded the face of the plate down. "I just started all over fresh," is the explaination given by the artist, always a good sport.

The end result of this effort was a glorious 9" x 12" image of several pastel-colored hot-air ballons floating weightlessly above a New England harbor against a brilliant sunburst backdrop. Kathleen uses this print as an example of her painstaking effort to mix colors in a medium that requires careful attention to detail and color register, since a number of plates identical to the masterplate must be used to apply color to the etching.

As many as four plates are used in the color process. Kathleen admits dificulty with color application. "It is very tricky," she says.

After color is applied, each print is hand pulled, one at a time. A process of inking, wiping and rolling the plate through the press is repeated for each print. The demands of this process are most likely the reasons why the Cantins will limit Kathleen's editions to 295, with a deluxe edition of only 100 or 120 prints.

And when one considers that Kathleen may require as much as six months to complete one project, it becomes evident that she is an artist whose works are in limited supply. If this makes them relatively rare, then it's true that she's a rare artist-one who has demonstrated her own originality and yet has been willing to work in an old, respected medium. She has shown that the methods of the old masters give her a style that suits her well.
- Lisa Haley
Reprinted with permission from Collectors Mart

---
© All images and text are protected under U.S. and International Copyright Laws
Unauthorized reproduction or use is strictly prohibited.